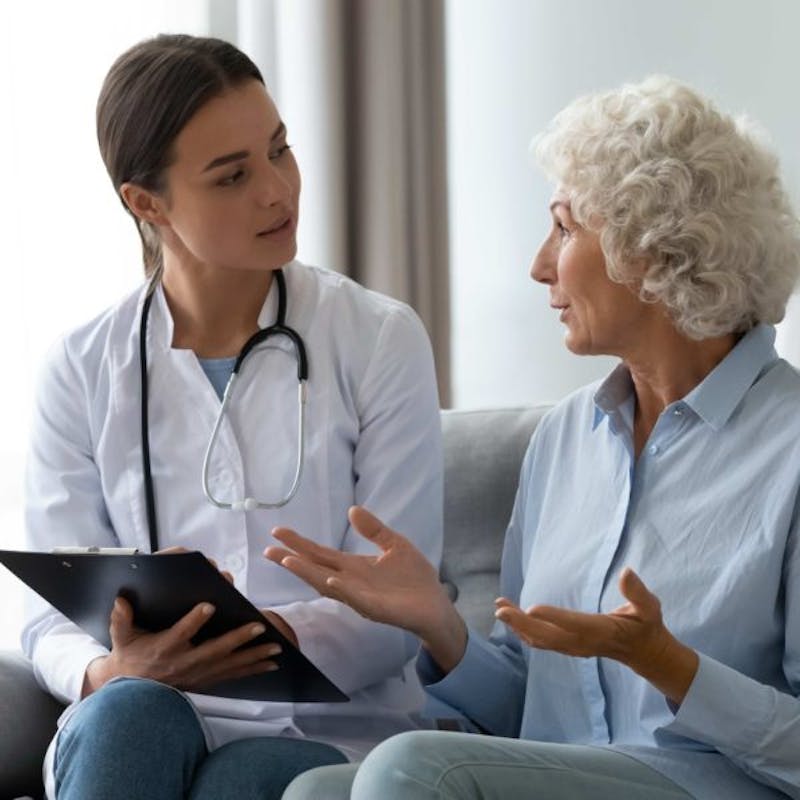 Common Myths About Hormone Replacement Therapy
June 29, 2020
What is hormone replacement therapy?
As the body ages, it undergoes various hormonal changes that can affect your health and happiness. For men, your natural production of testosterone peaks in your late twenties and declines at a continuous rate. For women, production of the sex hormones progesterone and estrogen reduce dramatically during menopause. This reduction in hormone levels often leads to uncomfortable long-term effects. Some of the common symptoms of hormonal imbalance include weight gain, memory decline, fatigue, and muscle loss.
Myth – Hormone replacement therapy isn't necessary
Hormones are needed for your body to function properly, your bodies ability to produce these necessary hormones decreases as you age.
This decline in testosterone, estrogen, and progesterone can result in symptoms such as:
Reduced sleepMood swings and irritability Brain fog Decrease in daily energy levels Loss of bone and muscle mass Reduced libido and sexual performance Weight gain and bloating
Hormone imbalance is also associated with an increase in risk factors such as cardiovascular disease, osteoporosis, dementia, diabetes, and mood related conditions. Bioidentical hormone replacement therapy provides the relief you need by restoring hormones to their optimal levels, improving your overall health.
Myth – Hormone replacement therapy isn't "natural"
Some hormone therapies use synthetic hormones. These synthetic hormones are chemically similar enough to the hormones naturally produced by your body, allowing them to interact with the same receptor sites that would normally be activated by the body's own hormones. However, these slight molecular differences have been tied to negative side effects.
Bioidentical hormones are the modern solution to the synthetic hormone problem. As the name implies, they are an exact copy of what your body would produce naturally. As a result, bioidentical hormones work more synergistically with your body's natural mechanisms, in the same way your own naturally produced hormones would.
Myth – Herbal hormone supplements are a safe alternative
Many herbal remedies and over-the-counter supplements claim to treat hormone deficiencies via a cocktail of various herbs and extracts.
Unfortunately, these herbal remedies have not been found effective in the treatment of hormone deficiency, some even have some unpleasant consequences when taken at the doses suggested. According to medical literature, the only way to properly balance hormones is with prescription hormone replacement therapy.
Myth – At home hormone administration is just as good
Your body works best when your hormones are optimized. This means all hormones are present in your body at the correct levels. Too little or too much can lead to undesirable side effects.
Consistent monitoring from a doctor who is experienced in prescribing hormone replacement therapy is essential to ensure that you are getting the best effective dose.
Myth – BHRT isn't safe
Decades of academic medical studies have shown that appropriately dosed and managed hormone replacement therapy, using bioidentical hormones, has significant long-term health benefits.
Myth – All hormone treatments are the same
Not all hormone replacement therapy is created equal.
For the best results, look for hormone replacement therapy that:
Uses bioidentical hormones only. Includes regular check-ins and monitoring via lab testing. Is supervised by a doctor with experience and training in bioidentical hormone replacement therapy. Is individualized for each patient's unique dosage needs.
Why Choose Seattle Regenerative Medicine Center?
Simply put, we specialize in regenerative medicine, providing support areas that are synergistic with hormone replacement therapy including stem cell therapy to enable your body to heal itself and to help you feel rejuvenated.
Our patients receive unparalleled personal support and care to ensure that your long-term health and happiness is improved through our various treatment areas.
Click the following link if you would like to book a consultation or learn more about BHRT.
>Book your consultation today<