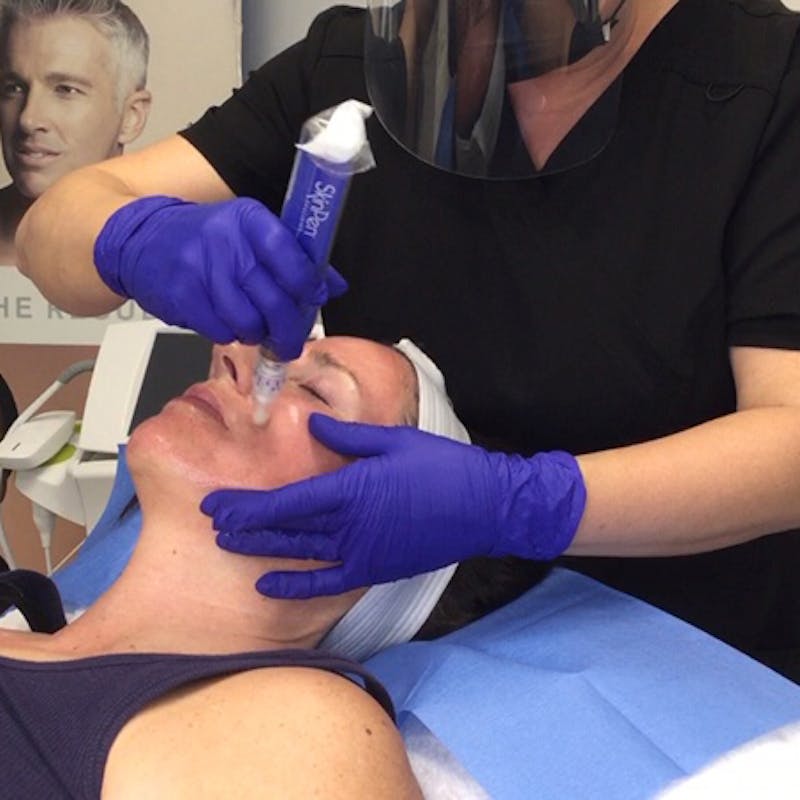 The SkinPen is the only FDA-cleared and approved medical grade micro-needling device on the market to treat face, neck & body. MicroNeedling addresses all of the following conditions :
Sun damage (sun spots) Age and brown spots Fine lines and wrinkles Dark-colored stretch marks Acne scarring Uneven skin texture Large pore size
Surgical scarring
How Does SkinPen Work?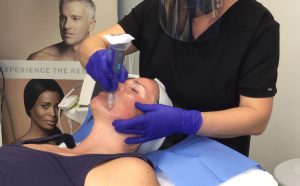 The SkinPen creates thousands of precise micro-injuries or "micro-channels" in the dermis, which stimulates new collagen synthesis without causing scar tissue formation. This technology takes advantage of the skin's natural wound healing process. When the MicroNeedling device creates micro-channels in the skin, the skin naturally produces new collagen and elastin in the treatment areas.
Patients see significant improvement in overall skin tone and texture with the reduction of fine lines, discoloration & reduction in pore size as well.
Who Can Use SkinPen?
The SkinPen is safe for all skin types all skin colors and is safe for all ages, although we recommend the procedure for ages 16 years old or older.
What Should I Expect From My SkinPen Treatment?
MicroNeedling is a relatively short & painless in-clinic procedure. Topical numbing cream is typically applied to the treatment area for 30 minutes prior to the procedure. The treatment typically takes 20-30 minutes depending on the size and number of areas treated and the severity of damage on the skin. While you may have some redness and swelling immediately after the procedure, there is usually minimal downtime. By the second day, patients have a pink glow and are able to wear sunscreen & mineral makeup if they choose to do so.
How Many Micro-Needling Treatments Will I Need?
Every patient is different, but for optimal results, we recommend a series of 3 treatments spaced approximately 4-6 weeks apart. By continuing to stimulate collagen production over multiple treatments patients' end results will be enhanced and they will see a reduction in fine lines, wrinkles, pore size, and overall healthier texture & tone. Our licensed Master Aesthetician, Kristal will work with you to create a customized treatment plan based on your particular skin issue and your skincare goals.
Can MircoNeedling be combined with other procedures?
Absolutely, Yes! We recommend you come in for a complimentary skin consultation and see if MicroNeedling is right for you. At that time Kristal can discuss different combination treatments like lasers, IPL / photo-facial, peels, or a hydrafacial. All of these procedures complement micro needling to give patients a more youthful rejuvenated appearance and they are all non-invasive with little downtime.
© Seattle Regenerative Medicine Center 2021. All Rights Reserved This Notice is Required By Washington Law: The health care practitioner performs one or more stem cell therapies that have not yet been approved by the United States Food and Drug Administration. You are encouraged to consult with your primary care provider prior to undergoing a stem cell therapy.

1220 116TH AVE NE, SUITE 102, Bellevue, WA 98004

425-522-5938

425-454-8225