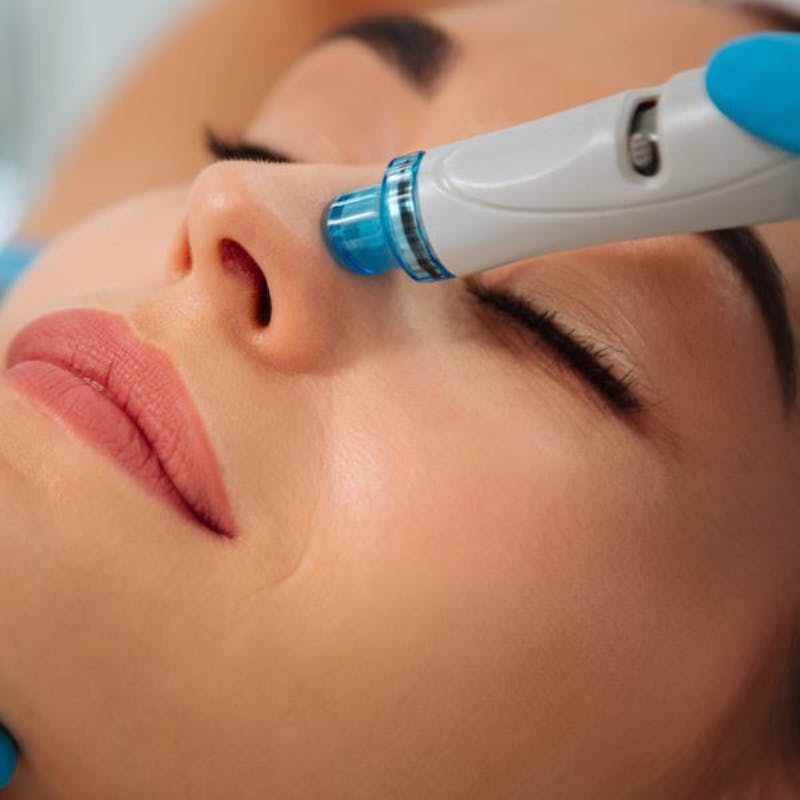 The HydraFacial™ Treatment
The HydraFacial™ treatment is exactly what you are looking for if you have rough, dull skin, breakouts, and clogged pores. With HydraFacial™ treatments, you will experience a gentle, effective alternative to other treatments that provide exceptional results even in as little as one treatment.
The HydraFacial™ treatment combines cleansing, exfoliation, hydration, and antioxidant protection to the skin. It is a non-invasive, innovative, relatively new procedure that provides the skin-enhancing results that are similar to microdermabrasion, or laser exfoliation without the pain
While microdermabrasion cleanses the skin by using crystals or diamond chips, the HydraFacial™ treatment is a gentle alternative that cleans the skin with a vortex of liquid. Unlike microdermabrasion or laser exfoliation, HydraFacial™ does not cause the skin damage that is often seen with those skincare treatments.
This specific machine infuses your skin with strong, beneficial ingredients to bring about outstanding results by using a gentle, liquid-based exfoliation process. A treatment typically takes approximately 30-45 minutes from beginning to finish. This will address several different skin care aspects with a combination of cleansing, exfoliation, extraction, and hydration.
Here's How the HydraFacial™ Works:
Cleaning
The HydraFacial™ system effectively hydrates the skin with a combination of nutrient-rich solutions that penetrate the skin deeply using a vortex process. The solution works by penetrating skin pores, dissolving impurities and softening the skin at the same time.
Extraction & Exfoliation
This initial, deep cleaning step utilizes liquids to quickly remove dead cells from the skin's surface. It also removes oily secretions so skincare ingredients can penetrate the skin. Pores are loosened and cleansed with a mild serum of salicylic, lactic, and glycolic acids, loosening pore plugs which can cause acne.
This step is particularly vital to maintaining healthy, radiant skin. The HydraFacial™ treatment effectively and thoroughly exfoliates dry, dead layers of skin without redness or irritation.
During the HydraFacial™ process, loosened pore plugs and dirt are removed with a combination of serums to suction out dirt and other remaining particles.
Antioxidant Fusion
Hydrating skin solutions and powerful antioxidants are combined, providing for more resilient, firmer skin. The antioxidants help repair damaged skin, and peptides offer a necessary building block for skin cells. Hyaluronic acid can quickly reduce the appearance of wrinkles. This step boosts the production of collagen and elastin, minimizing fine lines while hydrating the skin.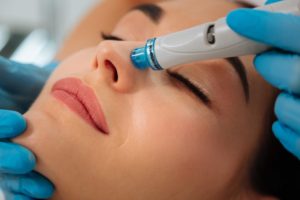 What Results Will I See as a Result of HydraFacial™ Treatment?
The treatment cleanses your skin, offering a glow and more even skin tone overall. Patients typically notice greatly improved skin hydration, minimized dark circles, and a dramatic reduction in the appearance of fine lines and wrinkles. Even after just one treatment, improved skin tone and refinement may be visible. The smoothing, hydrating results usually last at least five to seven days.
How Often Does the Treatment Need to be Repeated?
Often, one treatment per month is recommended to reduce skin issues such as fine lines, wrinkles, signs of irritation, brown spots, or oily and congested skin. A continued regimen of HydraFacial™ treatments may be recommended to maintain sustained healthy skin results.